I call them my everyday heroes because they work so hard to bring food to our tables everyday... rain or shine. The heavy food containers they carry on their heads, on their shoulders... food they push from their cart or long hours of manual pedalling of their bikes everyday to earn a decent living ... make them my everyday hero. Their work is hard and yet I see smile on their faces.
I was able to interact with most of them and their enthusiasm for work is contagious and inspiring because no matter how hard life is, they can still be warm and friendly to everyone they meet. To meet these kinds of people makes life so meaningful. Here is my tribute to these awesome workers... decent and respectable people I met along my way collecting memories.
In the Philippines, my home country....
These two (2) Taho vendors... present daily in our lives since we were children shouting Tahooooooo everyday to provide us healthy breakfast. (see related article on Taho). I always try to listen to their calls whenever I am in the Philippines. This is a typical scenery early morning and I love and miss it.
Please see more pictures in the continuation of this article Part 2 and Part 3 and Roaming Vendors in India, Thailand and other countries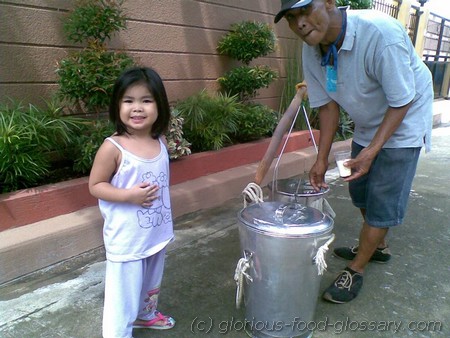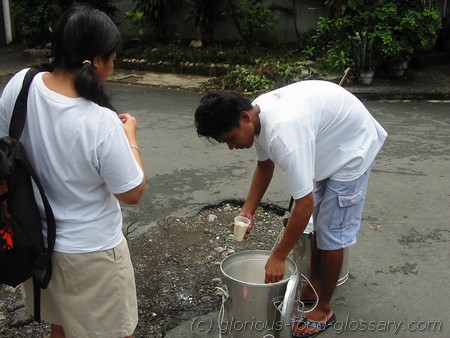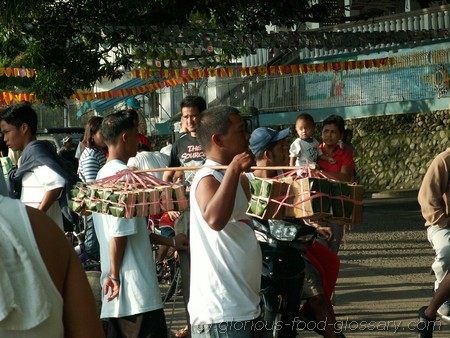 This man is carrying packs of Kesong Puti, native fresh white cheese made from Philippines. Everyday, he roams around Sampalok Lake in San Pablo City, Laguna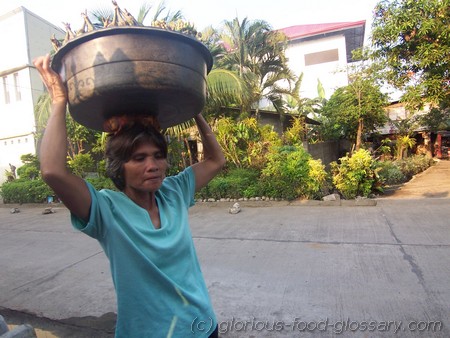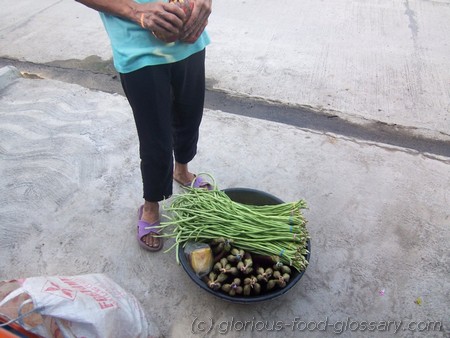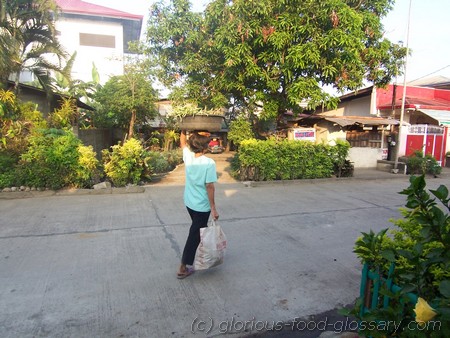 The last three (3) pictures, show the strength and courage of a woman whatever comes our way. Just see how this woman carries heavy fresh vegetables (Talong or Eggplant and Sitaw of String Beans) on her hear and still carry some more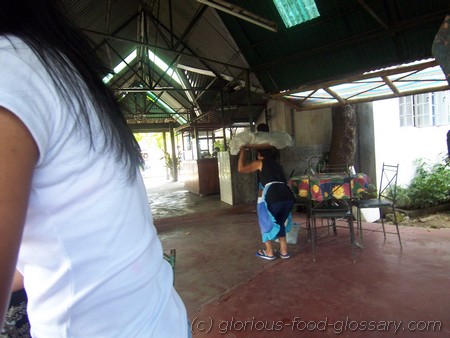 This woman roaming around the streets in my province with heavy Bilao (native container of food made of bamboo)  on her head while carrying another heavy plastic container that contains sweet and savory snacks (Bicho-Bicho, Carioca, Banana Chips, Shrimp Chips or Kropek and a lot more.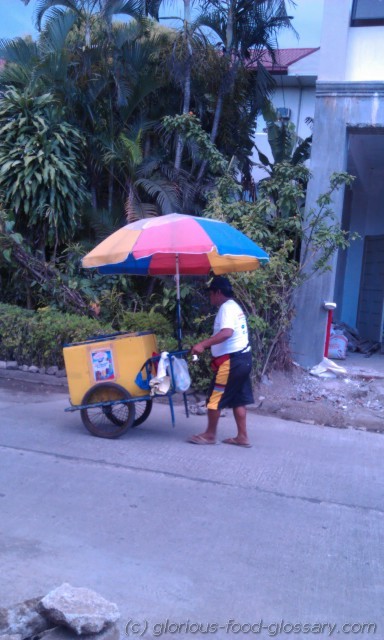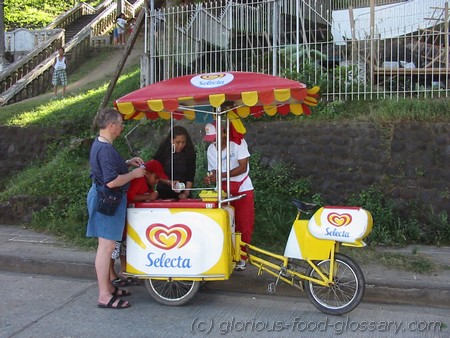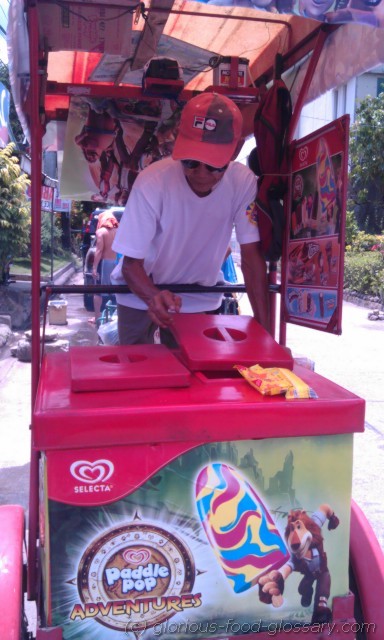 This man brought me my favorite ice cream everyday while I was on vacation in the Philippines. His cart has this special music that I always here even if I am back to Germany.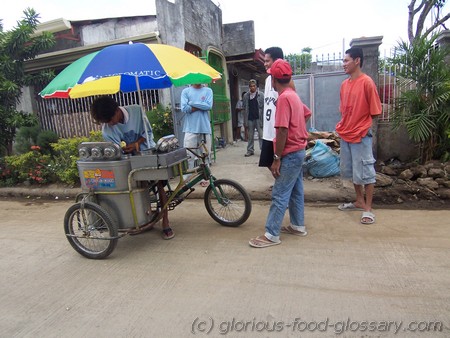 Another kind of brandless ice cream, which we call "dirty ice cream" when I was young. These Mamang Sorbeteros (Ice Cream Man) are very creative, they put a garden umbrella to protect their ice cream and themselves from the heat of the sun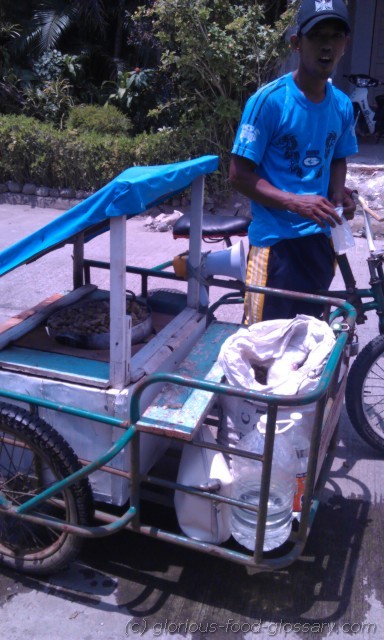 This is my favorite guy... he brought me hot and newly cooked Nilagang Mani or boiled peanuts every other day during my vacation in the Philippines. I can not ask for more.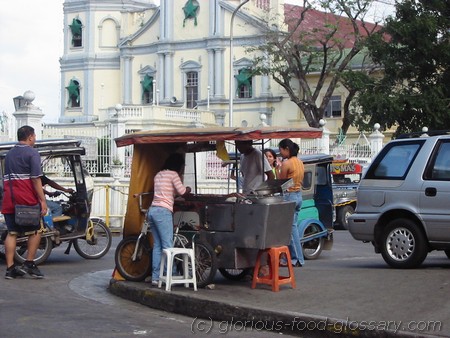 Please related Photo Gallery what snacks these roaming vendors are selling in Philippines. This was taken infront of San Pablo City Cathedral in Laguna, Philippines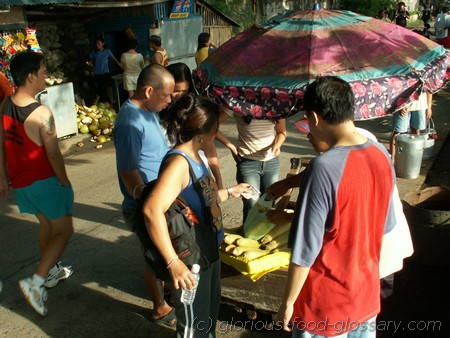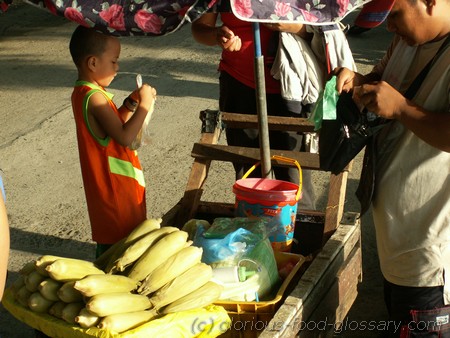 After a 6 kilometer walk around Sampalok Lake, Laguna, Philippines, this was a very good diet breakfast, boiled Corn on the Cob (Nilagang Mais) and below, there was also someone selling our traditional bread called Monay, stil fresh and hot from the oven in those sealed Stryoform containers