Glossary S
Sitaw is a Filipino word for String Beans. It is also sometimes also called Long Beans.  Sitaw is one of the kinds/varieties of Vegetables (Gulay) in the Philippines. They are available all year-round in wet markets we call in the Philippines Palengke an even in supermarkets all over the Philippines. It is one of the versatile vegetables in the Country which can be cooked/prepared in many ways like the simple Ginisang Sitaw (Sauteed String Beans) , by sauteeing the broken/small strings with little amount of meat with chopped tomatoes, garlic and onions or even meatless. It can also be made into Adobo, cooked in vinegar, soy Sauce and minced garlic (Adobong Sitaw) and it is one of the ingredients for making Dinengdeng and any variety of Sinigang.
The Sitaw's  long strings are broken or cut  into smaller lengths about 3 to 4 inches before cooking. Some also cut them into much smaller pieces.
Sitaw is found in the markets always in a bunch or bunches, just like the picture below
Adobong Sitaw is my all time favorite from my mom's ktchen table when we all still live together in the Philippines. With or without any meat, just the Sitaw pieces cooked in vinegar, soysauce and garlic  eaten with rice made me drool
Suppengrün is a German term which refers to a bunch of herbs and vegetables  which is used  as the  basic ingredients for making or cooking soups and sometimes stews (Eintopf) in Germany. Suppengrün is mostly composed of bunch of Knollenselerie (Celery root), Mohren (Carrots) and Lauch/Porree (Leeks), but sometimes stalks of Petersilie (Parsley) are also added. 
These herbs and vegetables are tied together and sold as a bunch and is always available in weekend markets and supermarkets in Germany. 
Suppengrün which literally means "soup greens"  is also known in cooking terms as Bouquet garni.
Below is what German calls Suppengrün sold in weekend farmers markets labelled as "Suppengrün" sold for about 2 euros a bunch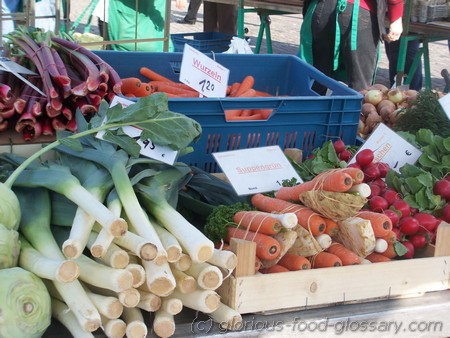 Below is the Suppengrün I bought from a supermarket which is packed in a plastic container. There is a bit of Blumenkohl (Cauliflower) added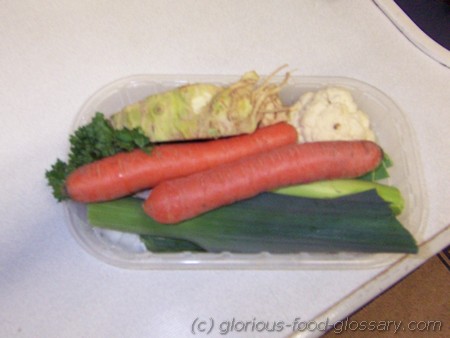 Strammermax / Strammer Max refers to Germany's type of ham and egg sandwich. It is made of buttered brown bread topped with ham (Scheiben Schinkenspeck) and sunny side up fried eggs (Spiegeleier). 
Strammermax is called as Katerfrühstück,  a German word which means "a morning after breakfast", the morning after all activities in the evening, like partying, disco dancing, etc.
Strammermax are usually available in pubs/bars (Kneipe in German), restaurants and street stalls as snacks and are mostly eaten with beer. It an also be ordered sometimes anytime of the day in some small restaurants.
Picture below of Strammermax in one of the many Motorway restaurants in Northern Germany on our way to Sylt. Sehr Lecker !!!!
Sauerkirsche a German word for a variety of Cherry. They are sour even when fully ripe but best when made into jams or marmalades
Pictures below of Sour Cherries we harvested in our own tree in our backyard.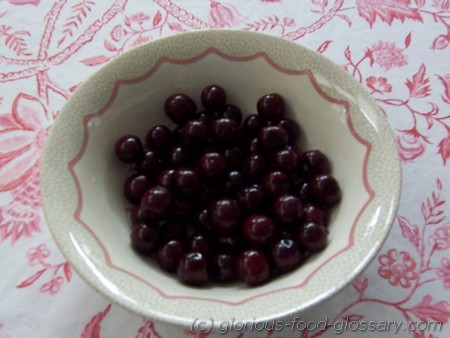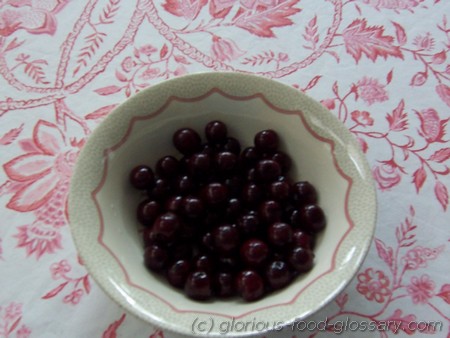 Semiya Payasam refers to a traditional Kerala dessert. Semiya Payasam which is also called Vermicelli Payasam is a milk-based pudding prepared with fine noodles (Vermicelli) cooked in ghee and milk. It is then flavored with cardamom, pistachio, raisins and cashew nuts and sometimes raisins are added. Below is the picture of Semiya or Vermicelli
Semiya Payasam is a perfect ending to a south Indian meal called Sadya. The sumptuous "Onasadya" or Onam Sadya, the feast on Onam is always finished up with the serving of this delicious and delicious dessert.
In Allepey, Kerala, India, they told me that the secret make a perfect Semiya Payasam is the right and perfect timing to add the ingredients.
Below are pictures of Semiya Payasam, cooked by my 2 "Aunts" in Allepey, Kerala, India:
Aunt Fely's version of Semiya Payasam:
Pictures below show Aunt Lily cooking her version of Semiya Payasam in a traditional pot for cooking Semiya Payasam, called the Uruli
Soya Beans and Kozhi (Chicken) Varutharacha Vechathu refers to one of the foods in Kerala, India made of  Chicken meat (Kozhi) and Soya beans simmered in coconut milk and lots of spices. like Turmeric, Chili, Black mustard seeds, Cumin,  and Curry leaves .
It is a soya beans and chicken Curry.
Varutharacha means the dish is made with roasted and ground coconut paste.
My "adopted Mom" made this dish when she was able to purchased fresh Soya Beans from the vegetable market