Glossary H
Humba a dish of stewed pork; a very spicy dish made of pork or chicken from the Visayas Region of the Philippines. It is said that Humba is derived from the Chinese "Hong Baq" which means "saucy meat". The traditional way of cooking Humba is to slowly simmer a whole slab of pork belly in a mixture of Tausi (salted black beans), vinegar, dark brown sugar, garlic, onions, peppercorns and oregano. The more elegant way of cooking Humba is to grill the pork belly first until the rind is all crisp and puffy and then braise it in the usual mixture of herbs and spices.
The cooked Humba acquires the texture of Pata Tim wherein the rind is chewy and the meat is very, very tender.
I have never tasted nor seen Humba, this is one Filipino dish which I do not know of, probably because it is coming from the Visayas province and I am from another Region where Humba is not popular. Maybe in one of my vacations, I will try to ask my sister-in-law who comes from the Visayas Region if she can cook Humba. I am very curious how it taste.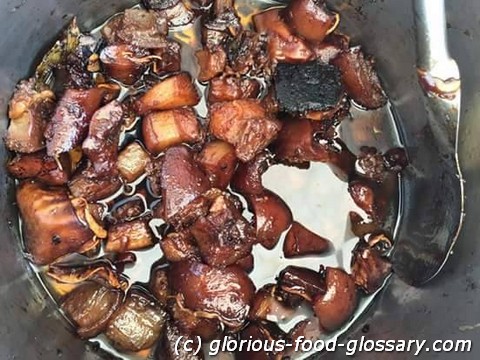 Hiwas is one of the kinds/varieties of fishes found in the Philippines. Hiwas is also called Bilong-Bilong in some provinces in the southern Island of the Country, like in the Province of Iloilo. This popular fish is also called Chabita and Tahas in the country
Hiwas is called Moonfish and Big flat Fish/Sole.
Hunggo with scientific Name Elaeocarpus cumingi is one of the exotic and edible fruits found and eaten in the Philippines. The tree grows up to 30 meters high an enemic species in the country. The fruits are oblong.
I found this fruit being sold outside the Public market of San Pablo City, Laguna together with some other fruits, but by only one vendor. It was unfortunate that I did not dare to try eating the fruit as they are being sold in an open container and flies can land on them. The vendor said it can be eaten as is or with a bit of salt and some buyers cook them as jams.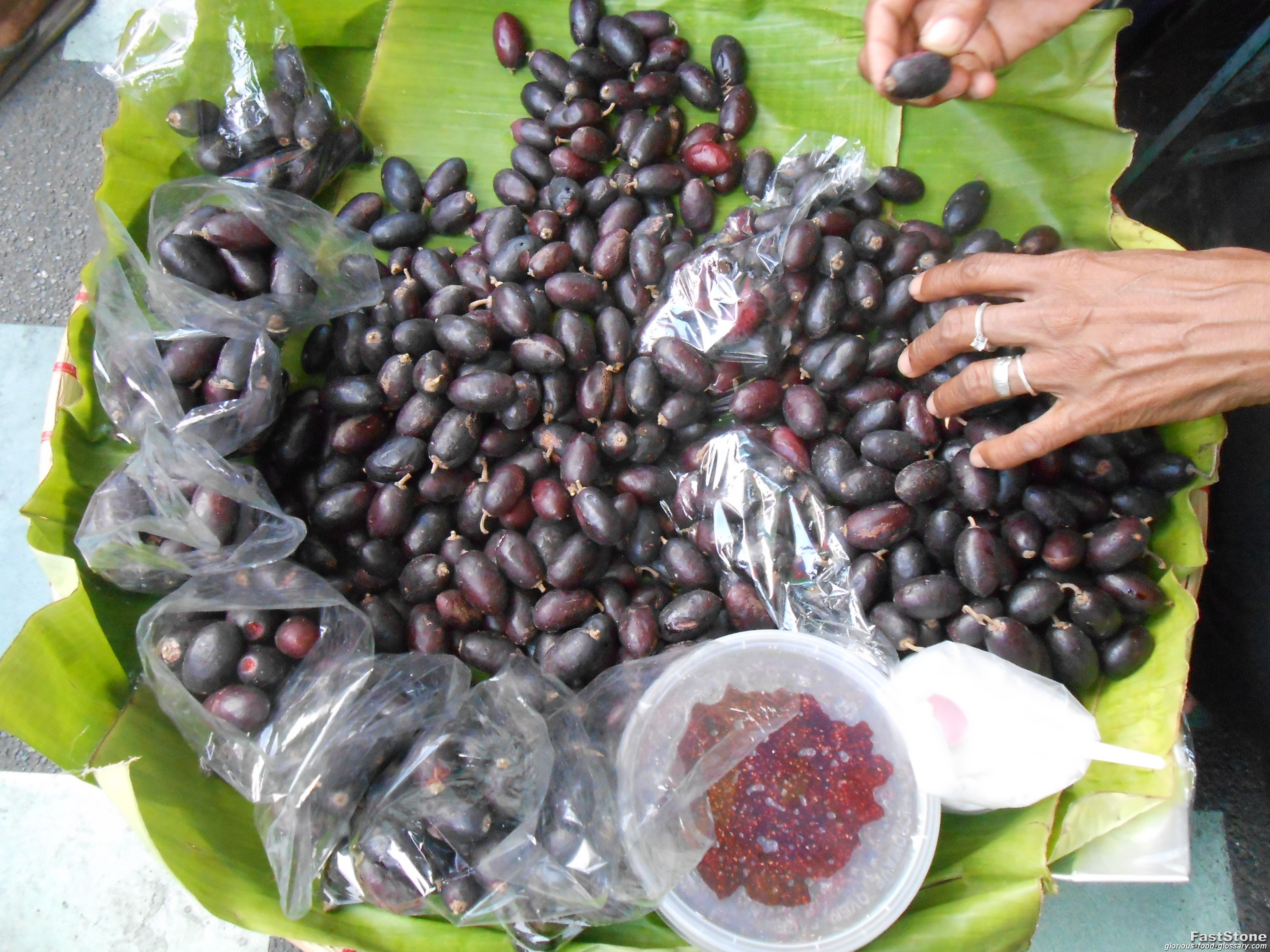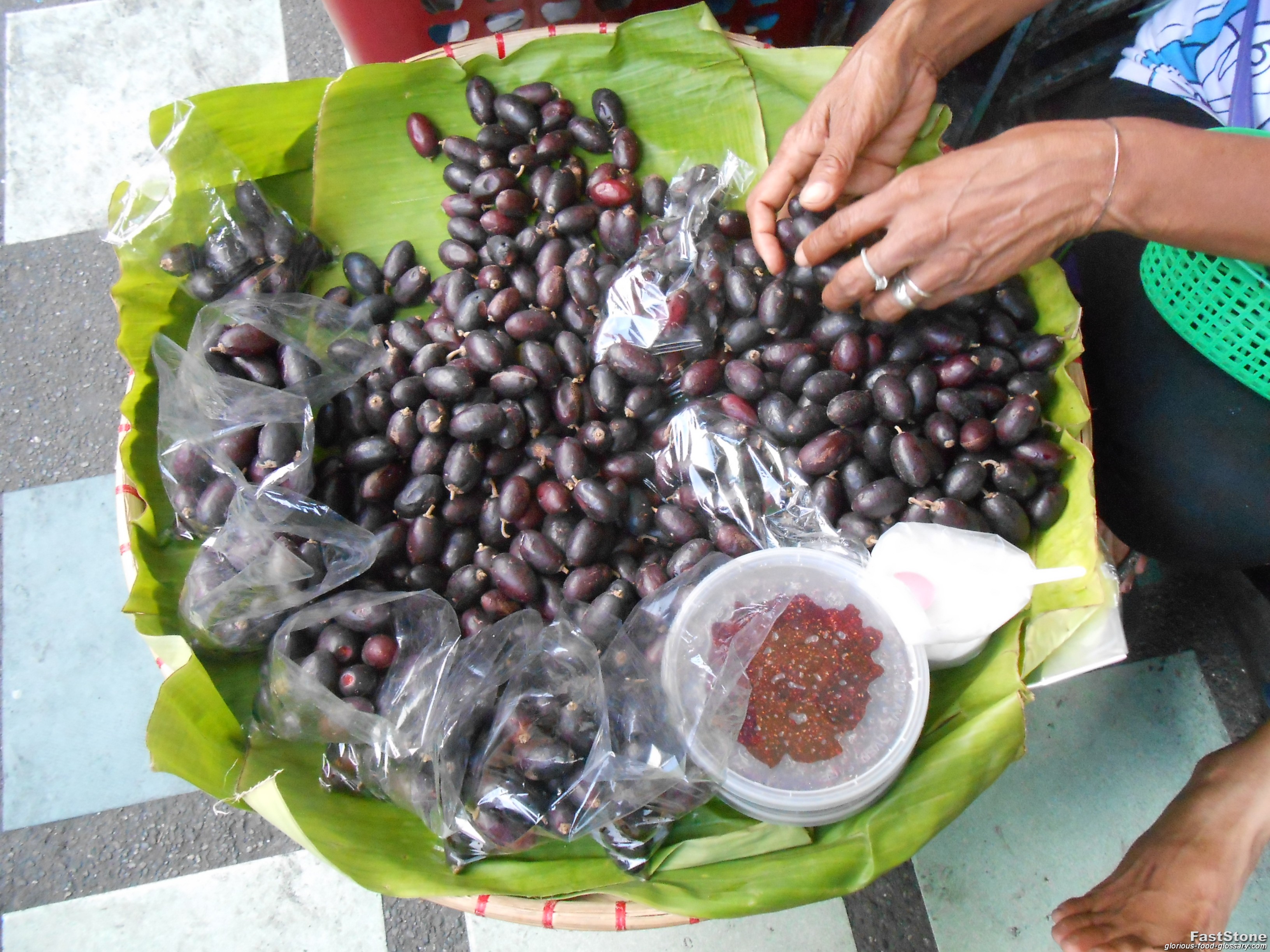 Hopia refers to one of Philippines bakery products stuffed/filled with sweet mashed beans or  a pork mixture. Nowadays, it is also filled with violet colored yam called Ube.
Hopia is Filipino for Laminated pastries . Laminated pastries are those made with puff pastry, or pastry rolled with layers of butter (please see Laminated pastries).
The most popular shape of Hopia is round because anything round is said to be a symbol of good fortune among the Chinese. However, other shapes also came out, like the one on the picture below. Hopia  is like a small, local Filipino humble version of Moon cakes that the Chinese serve during the mid-Autumn festival , as Moon cakes are also filled with sweetened crushed beans
Polland Hopia which started in 1966  with a small store in Nueva, Binondo Manila was one of the pioneer Hopia manufacturers in the country and is well known for its aromatic taste. The owner, Mrs. Po had the original recipe straight from Amoy, China and recreated it. 
Below are pictures Hopia from a local Bakery/Bakeshop in Laguna, Philippines filled with Mung Beans.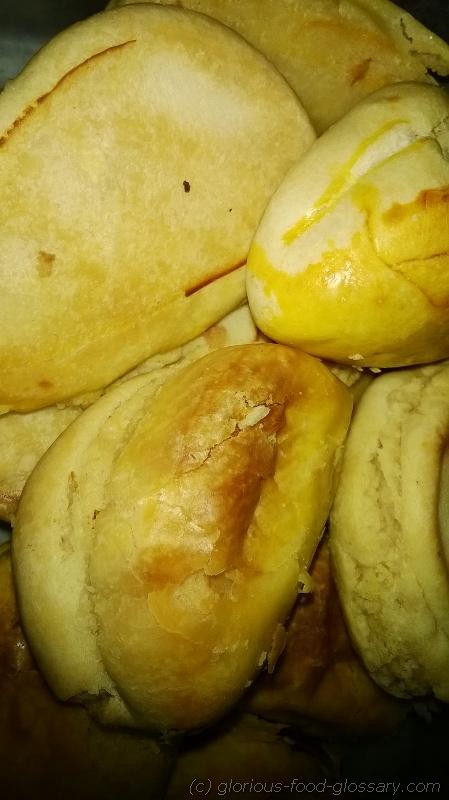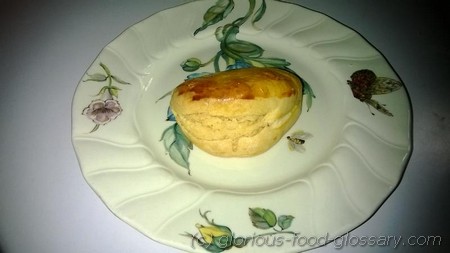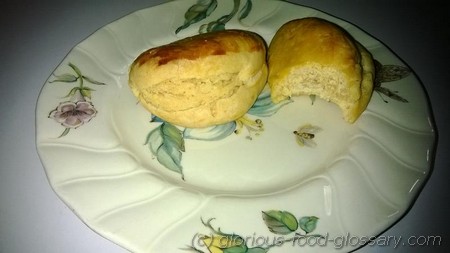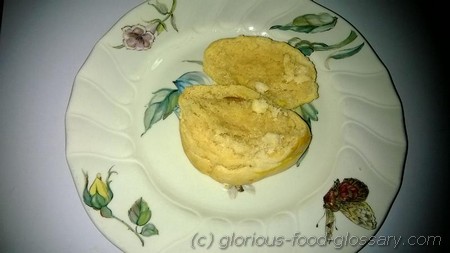 A closer look of the filling or stuffing of Hopia made from sweetened mashed Mung beans, called Munggo/Monggo in Filipino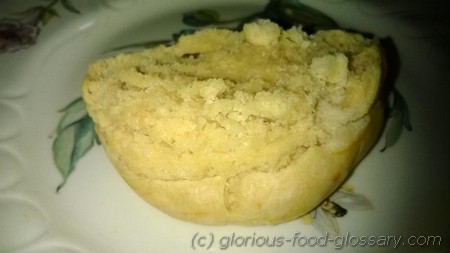 Below is one of the  local Bakeries in San Pablo City, Laguna where I come when I visit my home country,  the Philippines  to buy my favorite traditional breads, including Hopia. This is where I indulged on my favorite childhood snacks... bread of different kinds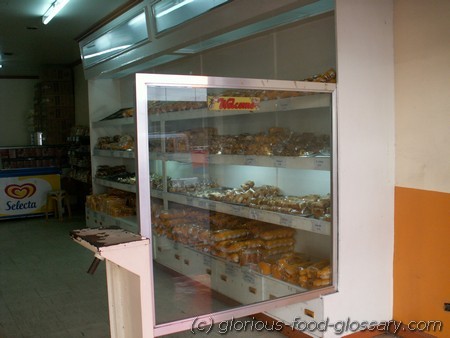 Hakkebof is the Danish word for "Hamburger".
Below is a picture of a Hamburger from one of the small Hamburger shops in my hometown in the Philippines. Hamburger conquers the world
Hominy
is a unique corn product that has been a staple in various cuisines around the world for centuries. It is made from dried corn kernels that have undergone a special process called nixtamalization, which involves soaking the
corn
in an alkaline solution. This article will explore the definition, culinary uses, nutritional benefits, potential risks, and provide a popular Hominy
recipe
. Additionally, we will delve into the history and legal aspects of Hominy and list some similar ingredients.
Related Articles

Manufacturer of furnitures

at top500.de

■■■

manufacturer of furnitures: Ozcevik Furniture - ; Dear Sir/Madam, - ; Firstly,I would like to thank you . . .

Read More

Coast

at maritime-glossary.com

■■

A coast, coastline or seashore is the area where land meets the sea or ocean. A precise line that can . . .

Read More

HDMI digital microscopes- manufacturer

at top500.de

■■

HDMI digital microscopes- manufacturer: With reference to your microscopes on your website, we found . . .

Read More

ISO/IEC TR 10182

at quality-database.eu

■■

- ISO/IEC TR 10182:1993 : Information technology. Programming languages, their environments and system . . .

Read More

API

at top500.de

■■

- An application programming interface (API) is a way for two or more computer programs to communicate . . .

Read More

Bassas da India

at travel-glossary.com

■■

Bassas da India  is a country in Africa; - This country . . .

Read More

Bouvet Island

at travel-glossary.com

■■

Bouvet Island is a country in Anarctica. - This country . . .

Read More

Clipperton Island

at travel-glossary.com

■■
Sell nike air force one new hot shoes-www.nikecentre.com

at top500.de

■■

sell nike air force one new hot shoes-www nikecentre com: We have a factory in do OEM for Nike - ; shoes . . .

Read More

Sell nike ,air jordans ,TN ,air max ,shox, shoes-www.nikecentre.com

at top500.de

■■

Sell nike ,air jordans ,TN ,air max ,shox, shoes-www nikecentre com: We have a factory in do OEM for . . .

Read More