Glossary N
Neyyappam is also known and spelled as Neyiappam 
Please see the description under Neyiappam. Below however, is another picture of Neyyappam, one of the many food from South of India, particularly, I have tried this in the State of Kerala which is served often snacks.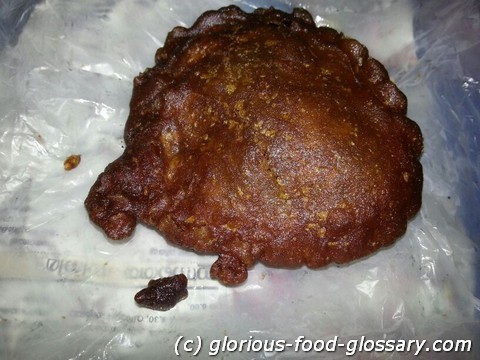 Neyiappam refer to a sweet and fluffy rice fritters from Kerala, India. Neyiappam is also spelled as Neyyappam. 
Nan Khatai / Nankhatai refer to a light and crunchy authentic eggless Indian sweet or savory buttery cookies with Ghee , Flour (Maida) Rava/Sooji (Semolina) sometimes Gram Flour (Besan/Kadalamavu) are also added and for sugar for the sweet version. Cardamon is also addded for that aromatic taste. Nowadays, some people are adding extra flavor to it, by adding Chocolates and Rose water to the dough. It is also described as crumbly, soft, delicate and smooth shortbread cookie.
Rava or Sooji is added for extra crunchy and cripsy texture. Some also add chopped nuts to their recipe.
Traditionally, an Indian cookie, Nan Khatai has a Dutch origin when the Dutch occupied Gujarat. It is said the recipe Nan Khatai originated the large port city of Gujarat, particularly in Surat at the end of 16th century when Dutch  set up a bakery and handed down the recipe to a trusted  Farsi employee named Faramji Pestonji Dotivala when they left India.
Nan Khatai is  famous in Goa and distributed as goodies for Christmas.  It is not only popular all over India, but also in Pakistan. 
Nan Khatai is also called Nankhat and is a popular Diwali dessert. The story nowadays is that Nankhatai is a dying tradition with the emergence of so many cookies and biscuits from all over the western world. It is getting harder to find them in the local market and bakeshops. In New Delhi, however, there are still those who make sell them as street food in pushcarts. 
The picture below of Nan Khatai was a gift to a family friend in Kerala who wanted very much to taste Nan Khatai because it always reminds him of his childhood. This particular cookie reminds everyone of childhood. It brings back lots of happy memories.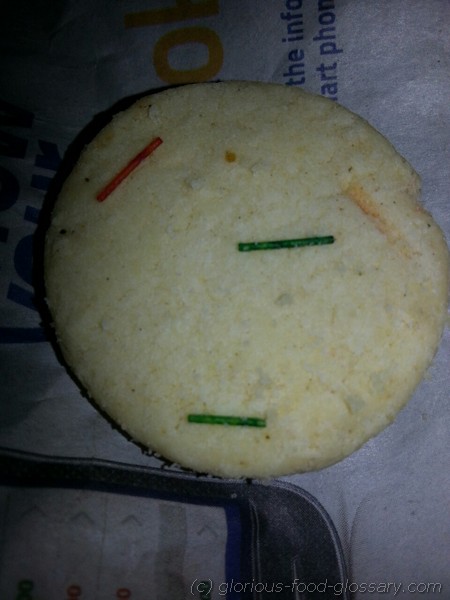 Naranga Achar/ Naranga Achaar refers to Lemon Pickle in Kerala, India. It is cooked the same way as any other Achar/Achaar (Please see relate article on Achar/Achaar). It is made from lemons cut into wedges and bite-size pieces then cooked with spices, vinegar, salt and curry leaves . 
All Achar/ Achaar are best served with newly cooked rice with fried fish or meat.
Achar/ Achaar is a regular food which is almost always available in any Kerala home. 
Below are pictures of Naranga Achar/ Achaar prepared by my family friend in Allepey, Kerala, India. As always, like Manga Achar, it is delicious. I love pickles, so I enjoy this particular treat from Allepey.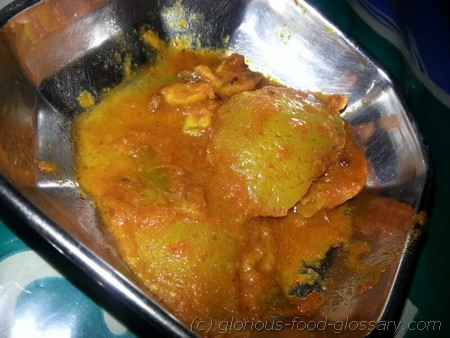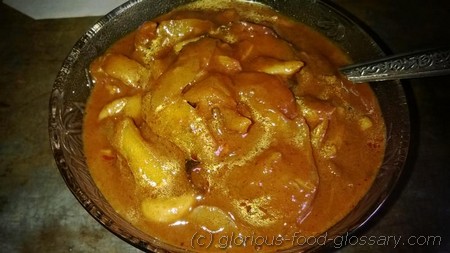 This Naranga Achar is a bit saucy, while the first picture is a bit drier, but I they are both tasty. I like the drier version, though especially with fried fish.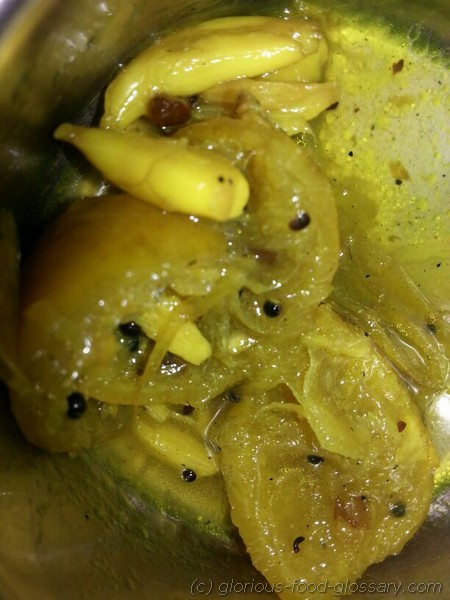 I can see the pieces of Garlic and the Kadugu (Black mustard seeds). I miss the delicious sweet and sour taste of this particular Achar. 
Njandu or Nandu Curry Kerala Style refers to a curry from Kerala, India made from crabs cooked with usual spices, such as Kadugu (black mustard seeds), red and green chilies,  lots of onions, Turmeric and of course the Curry Leaves . 
Njandu or Nandu , sometimes also spelled as Jhandu is the Malayalam name of Crab. 
Below are pictures of Njandu Curry cooked by my friend in Allepey, Kerala, India when some fishermen gave her their leftover produce for the day from an overnight of fishing. Looks and tastes so appetizing! I miss my home, the Philippines where Crabs are always available in the markets.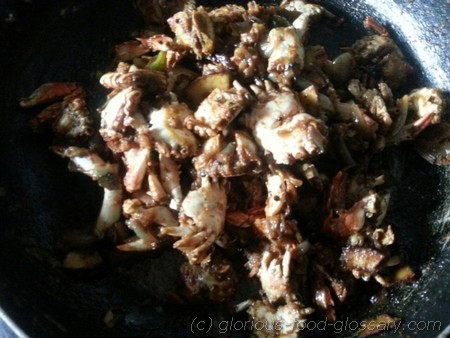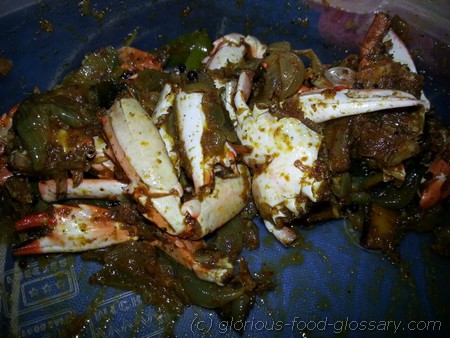 Nachos are a Tortilla chips that is topped or served with melted Cheese and chilies, most often slices of Jalapeno.  Nachos can also be topped/served  with freshly made chopped tomatoes (Salsa) or tomato-based sauce as in the picture below. 
Nachos is a food from Northern Mexico where Tortilla chips are  called Totopos (crunchy corn Tortilla chips). The dish is created by Ignacio Anaya, a Mexican.