Glossary E
Empanada refers to  a crescent-shaped pastry turnover stuffed/filled  with savory meats and vegetables fillings or sweet fruit fillings. Empanada's recipe varies from cook to cook. In Ilocos Region, in the north of the Philippines, there are already two (2) famous Empanada, the one from Vigan, Ilocos Sur and Empanada Batac from Batac, Ilocos Norte 
In the Philippines, some Empanadas are not only filled with meats, but pieces of meats, like pork and chicken are sauteed with small cubes of potatoes, green peas and some have raisins.
I am proud of the the Empanada which is sold in the San Pablo City, Laguna which is buy whenever I visit my relatives in Metro Manila as my treat coming from the province (Pasalubong, we call it in the Philippines) whenever I have my vacation in the Philippines. It is made by El Mare. Their Empanada are always freshly baked.
Here are the pictures of the Empanada from my city in Laguna. I think these Empanadas are baked in the oven so it is not oily, which make it light on the stomach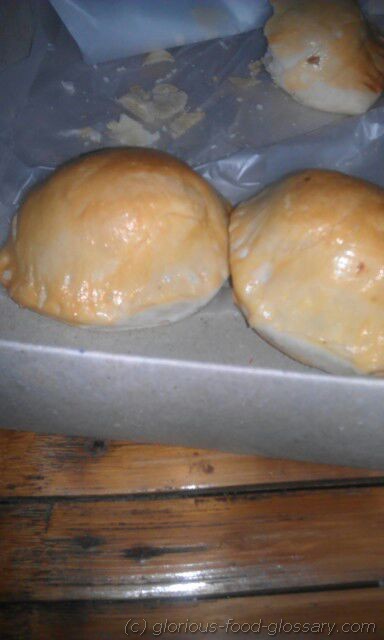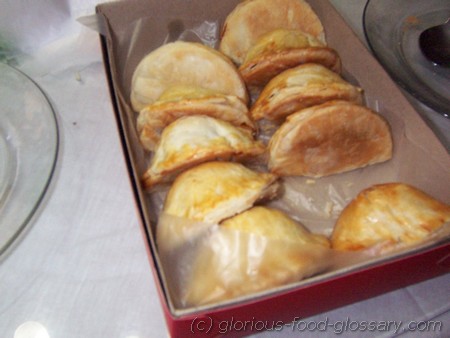 Below are various Empanadas I found in a Mexican Bakeshop in Houston, Texas. I chose the one with a sweet filling made of sweetened mashed pumpkins/squash and sweet potatoes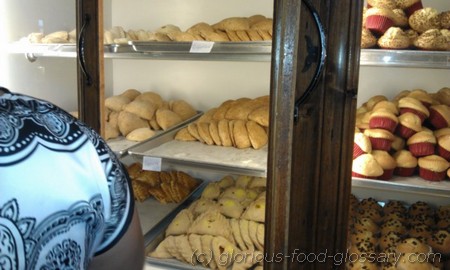 Below is an Empanada sold as street food also in my city in the Philippines during Food Night Market. Not so good because it is deep-fried and a bit oily, but it is a filling snacks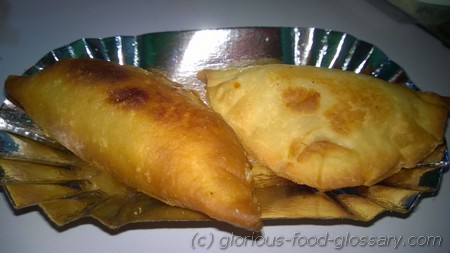 Ellu Unda also spelled Ellunda refers to one of South Indian sweets which are actually ball-shaped sweetened Sesame sweets. They are Sesame seed Balls which are made from roasted Sesame seeds called Ellu in Malayalam cooked with melted Jaggery, then shaped into small balls. 
Ellu Unda is best served with hot tea during afternoon snacks. I have eaten some during my train ride going to Kanniyakumari in Tamil Nadu
Unda is Malayalam word for balls, hence this sweet treat is called Ellu Unda in Malayalam
Sesame Seeds is called Linga in Filipino and is also cooked by some like Ellu Unda, that is Roasted then cooked with Brown sugar or Muscovado. 
Below are two (2) pictures of Ellu Unda, one from Allepey and the other one from Trivandrum, the capital of Kerala, respectively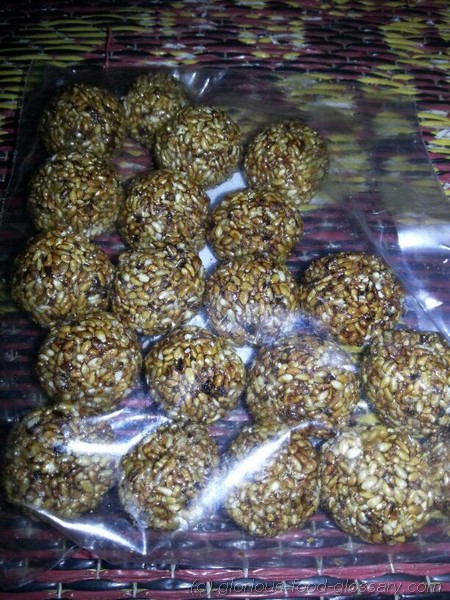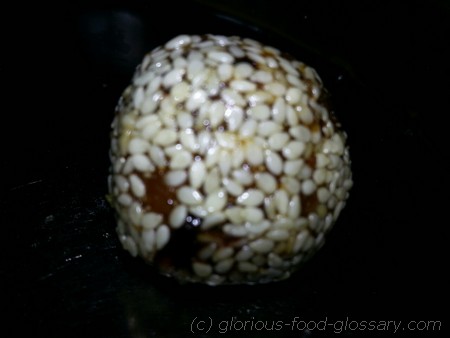 Egg Puffs is one of the varieties of Puffs sold in almost all bakeshops and teashops called Chaya Kada in Kerala, India. Egg Puffs are simply flaky,  phyllo pastry filled with seasoned hard-boiled eggs. 
In Kerala, India they are served as breakfast food, but mostly as snacks with hot tea.
These Puffs served mostly as my breakfast food when I was in Allepey simply because they are mostly available early in the morning in bakeshops.
Below is a picture of Egg Puffs.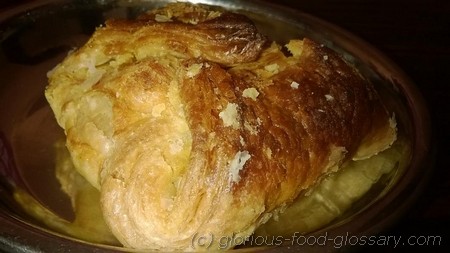 Ekuri is the Hindi name of spiced scrambled eggs. Ekuri is made from scrambled eggs with addition of chopped or sliced onions, sometimes green chilies and spices. 
Please see related article on Mutta Chikkiyathu, the name of scrambled egg in Kerala, India
Below are pictures of Ekuri called generally as Omelette in Kerala. I ordered them as Omelette in a Chaya Kada/Chayakadda in Kanyakumari, Tamil Nadu
Emping refer to Indonesian crackers made of Melinjo (gnetum gnemon). It also refer to rice or tapioca crackers
Erwtensoep
refers to Netherland's (Dutch) a thick pea soup, full of fresh
vegetables
and served with smoked sausage, cubes of bacon, pig's knuckle and bread