Glossary U
Uzhunnu Vada refers to a fried fritter from Kerala looking like a doughnut made from Uzhunnuparippu or Uzhunnu Parippu also called Black Gram, Urad Dal/Dhal or Black Beluga Lentils.  
Uzhunnu Vada is also known in South India as Medu Vada, Urad Dal/Dhal or Black Gram Fritters They are served for snacks with hot tea or even for breakfast with a Meat Curry.
Uzhunna Vada is one of the mainstays in a Chaya Kada or Teashops in Kerala. In the district of Allepey in Kerala, they are always available on the display racks and often served with a Curry. 
Below are pictures of Uzhunnu Vada from one of the Chaya Kada (Teashops) which I frequneted when was on vacation in Allepey.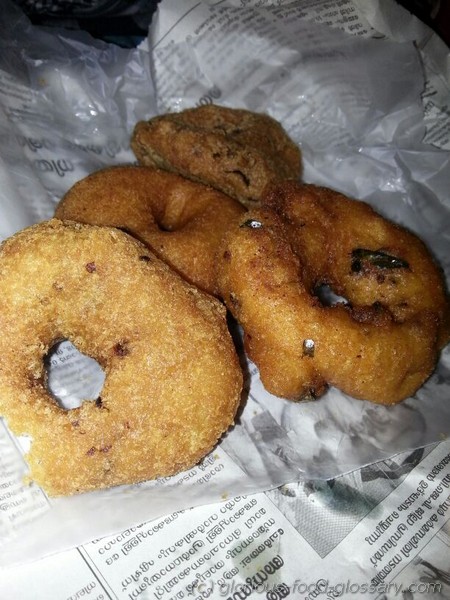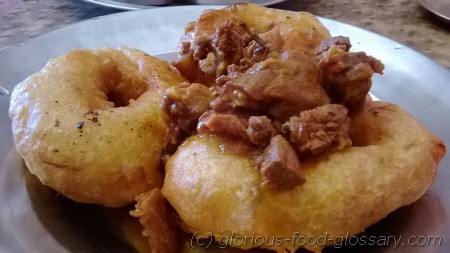 Uzhunnu Vada served with Beef Curry.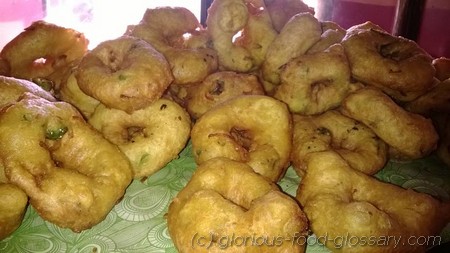 A Close up view of the Uzhunnu Vada on display in the said shop.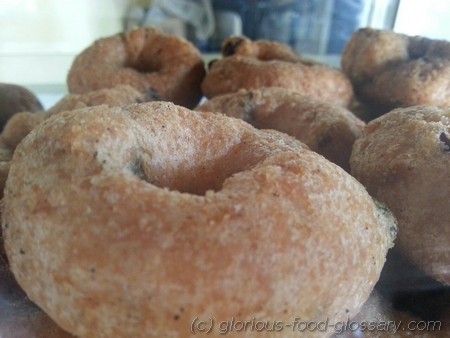 Undampuri / Undampori
:
Undampuri also spelled as Undampori or Undan Pori is one of Kerala's  sweet dish made from a mixture of wheat flour (Gothambu mavu), sugar or jaggery, Cardamom powder, slices of fresh coconut meat and mashed ripe Banana as its basic ingredients, formed into pingpong-sized balls then deep-fried in Coconut Oil.
Undampuri simply refers to  sweet round balls made of Wheat flour and Mashed bananas. They are best served with hot tea. 
It is one of the popular snacks among the Malayalees and is one of the regular foods sold in Teashops or (Chaya Kaya) or Thatukkada (street food shops) around this southern state of India. 
Below is a picture of Undampori straight from a Thatukkada wrapped in a newspaper.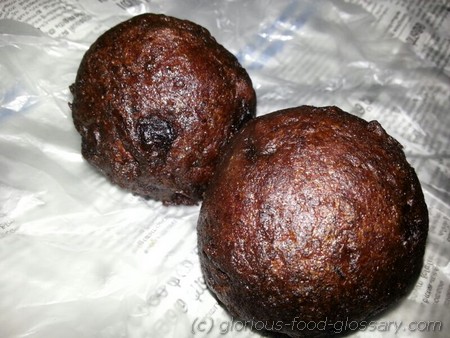 Ethakka/Pazham Upperirefers to crispy and tasty banana chips from Kerala, India. It is one of the important components of Sadya. It is an integral part of the traditional Kerala meal called Sadya which is served during wedding, church and temple festivals and traditional festivals called Onam 
Upperi can also be called Ethakka Upperi or Pazham Upperi, Ethakka or Pazham both refers to Plaintains or Banana in Malayalam.
Pazham Upperi is another form of fried banana, this time, bananas are cut into thin chips chips are usually made in Kerala  and known locally as Upperi and are deep-fried in coconut oil.  It is generally made from unripe bananas, but a medium ripe banana can also  are used for this variant. Sometimes they are coated with Masala or Jaggery to form both spicy and sweet varieties.
These South Indian fried snacks are largely demanded by the domestic markets, as well as international markets.
Picture below is the Ethakka Upperi I brought during my travel to Allepey, Kerala, India for my snacks at the Airport. This one is a bit sweet. I think its taste comes from the natural sweetness of the Banana from Kerala.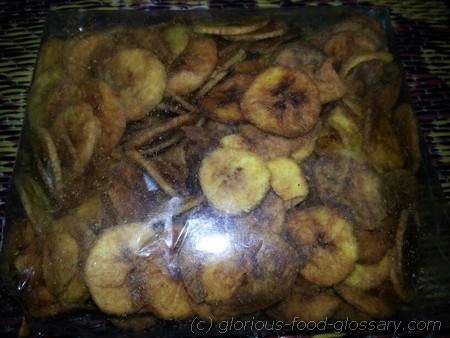 Below are three (3) varieties of Ethakka/Pazham Upperi sold as some of the many sweet and savory snacks in a night street food market at the heart of Coimbatore, Tamil Nadu, India. Both sweet and salty variants are sold.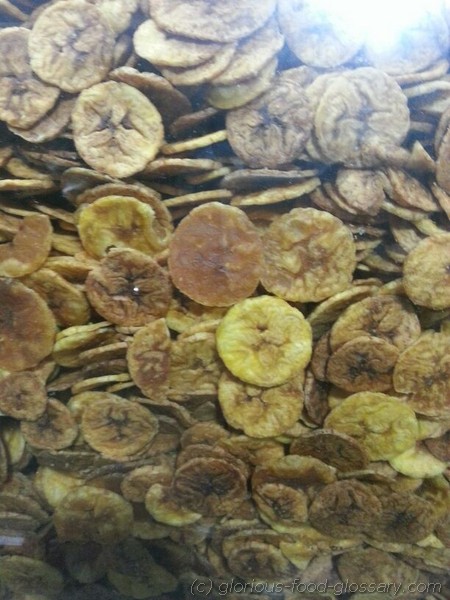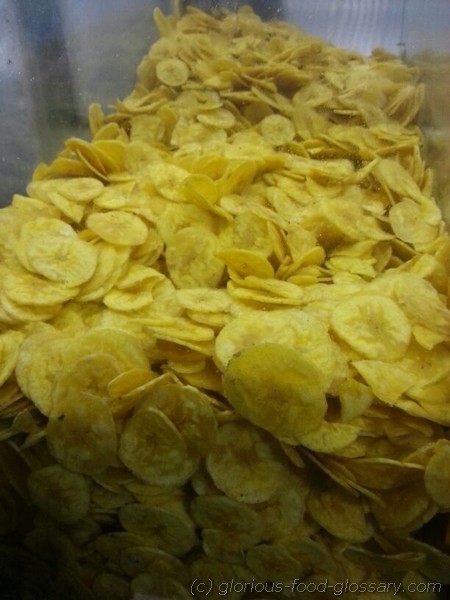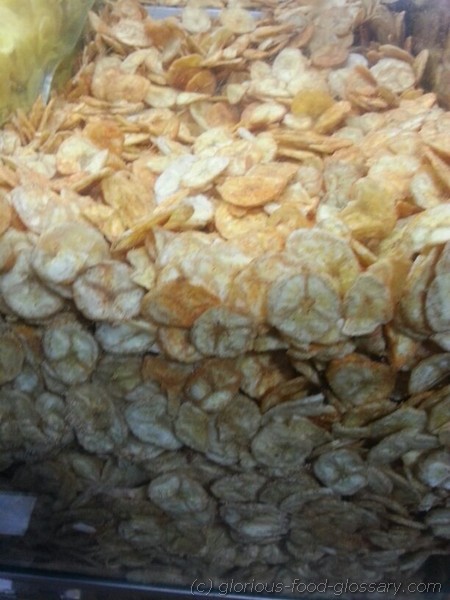 Malabar Unnakkaya/Unnakayya/Unnai Kayaii which is also known as Kaayada or Unnakayi  is one of the most famous sweets in the Malabar (Muslim) Cuisine and favorite snacks in Kerala mostly by the Muslims, but nowadays by everyone in the Kerala. It is considered to be a Malabar sweet. 
This Malabar sweet is made from cooked and mashed plantains that serve as the dough which is to be filled or stuffed by the mixture of sugar, spices, nuts, dried fruits or grated coconuts then deep-fried using Ghee . 
These sweets are known all over Kerala as Unnakkaya or Unnakkayi, but in some places, they are called Kaayada, the name which is derived from Kaayi for plantains and Ada which refer to foods which are stuffed, hence literally, Kaayada literally means "stuffed plaintains"  
Depending on the area in Kerala, the stuffing/filling used varies. Some are using a mixture of eggs, Sugar with nuts (Cashew Nuts) and  dried fruits (Raisins), while some uses a mixture of grated fresh Coconut, Sugar and Nuts for the filling or stuffing, much like the filling of Ella Ada. Cardamom is the common spice use to flavor the mixture and for deep-frying Ghee is used or coconut oil or a mix of Ghee and Coconut Oil.
In the northern part of Kerala, Kaayada is not only served as teatime snacks, but also during breakfast time.
Malabar refers to the northern districts of Kerala state which include Kannur, Kozhikode, Wayanad, etc.  
Picture below was taken in one of the foodstalls/Teashops (Chaya Kada) near the train station in Ernakulum where Malabar sweets/delicacies are being sold early in the morning. They know these sweets in Cochin as Unnakkaya.
Uppu Manga / Uppumanga
:
Uppu Manga also spelled Uppumanga refers to whole  or slices of  tender raw green mangoes immersed in a salt solution and stored safely in a Bharani, a traditional earthenware pot or ceramic jar which can be used later for various purposes, such as for making Curries, Chutneys and Pickles. 
Moreover, Uppu Manga refers to salt-brined raw mangoes or raw mangoes in brine. In Kerala, India, Uppu Manga is made from slices of tender raw mangoes then preserved by immersing them in a salt solution. If the mangoes are well brined/ preserved they can last until a year. 
It is said that Uppu Manga eaten with  Kanthari Mulaku (bird's eye chilies) and Kanji  is one of Malayali's  favorite comfort food.
My friend in Allepey, Kerala, eat them straight from the jar or eat them sometimes with Kanji (rice porridge/gruel). I tasted my first Uppu Manga during my first meal (lunch) in Allepey as a side dish.