They roam the streets of the Philippines, to bring food to our tables, no matter how heavy it is to paddle their crats, carry heavy weights of assorted foods, rain or shine. They are forever present on the streets and some became like families knocking at my door to bring me delicious foods whenever I am in the Philippines. This was my everyday scenery in my country where I grew up until I resided in Germany. These pictures bring back happy memories
Here is Part 2 of my article about them. Enjoy viewing how it is in my country.
The guy below is carrying 2 tin containers of Rice cakes called Puto in the Philippines and Kuchinta, another snacks made of glutinous rice topped with freshly grated Niyog (mature coconut meat). One of the everyday small, but beautiful things you can see in my country.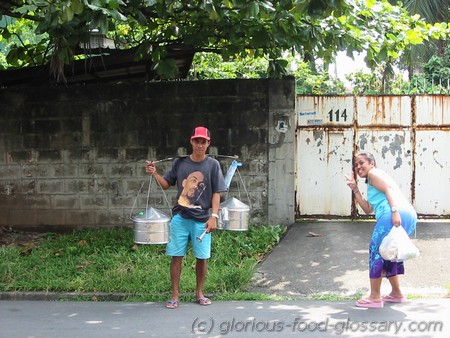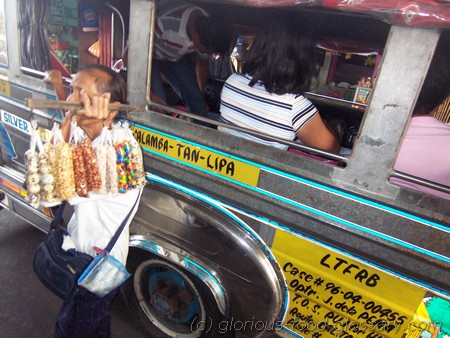 This is an old woman selling boiled quail eggs Nilagang Itlog ng Pugo) with small pack of salt, fried corns we call Kornik in the Philippines, savory friedn peanuts (Adobong Mani), sweetened white beans, and local look alike of M&M's all in small plastic packs in a jeepney station in the Philippines. Of course, I bought my favorite travelling snacks, boiled quail eggs and Adobong Mani. I actually pity her, at her old age, she must be enjoying somewhere else in her retirement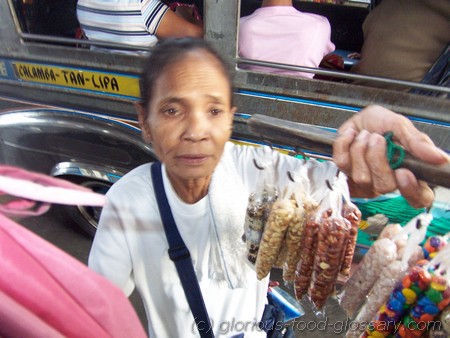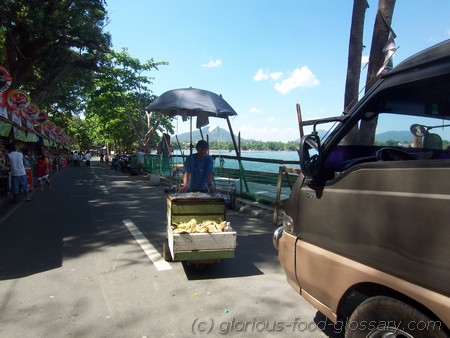 Selling boiled banana (Nilagang Saging na Saba) and boiled yellow corn (Nilagang Mais) around Samplaok Lake in San Pablo City, Laguna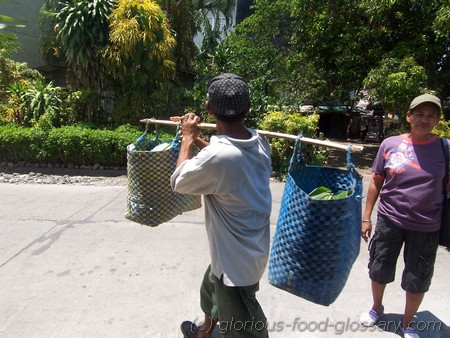 This guy with a very heavy load is selling freshly harvested vegetables around my community. he is carrying 2 full baskets on his shoulders under the heat of the sun.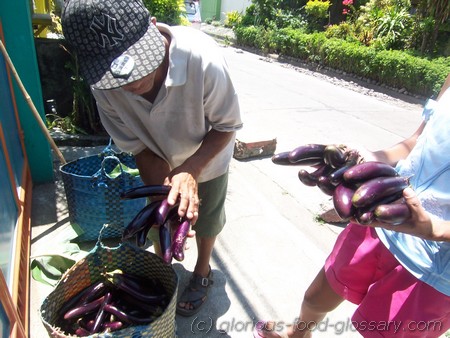 Freshly harvested Talong (eggplants)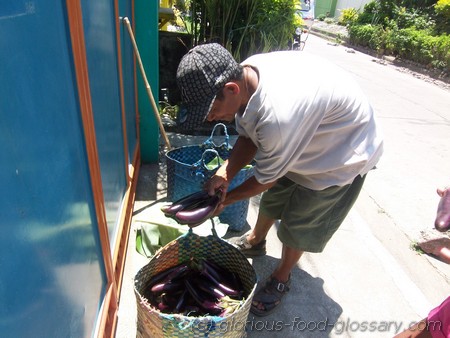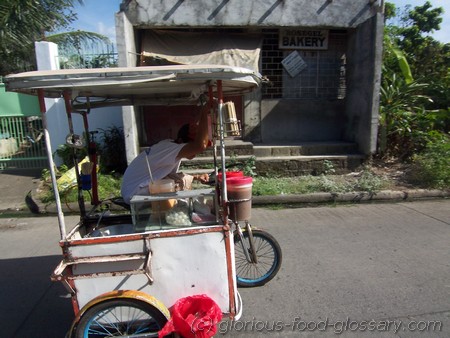 This man is selling deep-fried Fish Balls and Squid Balls. His cart is complete with his cooking pan, oil , sticks and 3 kinds of sauces (sweet, sweet and spicy, spicy). Amazing!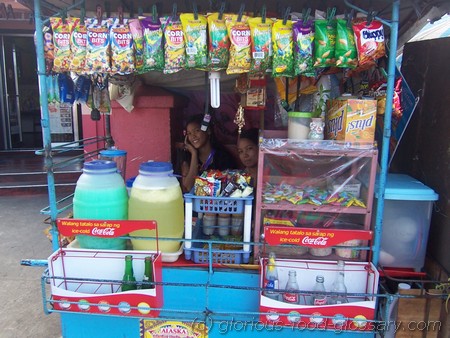 I need not say anything, every snacks seems to be available in this street cart, including cold juices we call Samalamig in the Philippines and savory and sweet chips and soda in bottles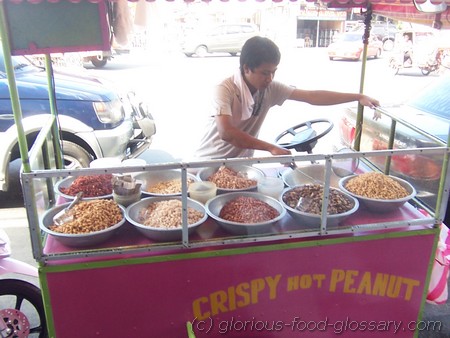 So many kinds of street snacks to choose from, fried savory peanuts in several varieties with garlic, without garlic, spicy, non-spicy, spicy fried Dilis (fried Anchovies), sweetened white beans, and Kornik (fried savory corn)
The last 4 pictures below is an example of a Talipapa, a temporary market and this is called Talipapang Gala (roaming temporary market) using a wooden cart called Kariton in Tagalog (Filipino) : They are selling assorted fresh vegetables, such as Sitaw , Upo, Talong, Ampalaya, Patola, Kalabasa, Okra.