Cheera Thoran is one of the dishes from Kerala, India, Spinach (Cheera) stir-fried in grated Coconut, lots of spices and Curry leaves . 
Thoran which is called Poriyal in Tamil Nadu is a dry vegetable side dish with coconut added to it. Moreover, Thoran is sauteed or stir-fried vegetables or mixed vegetables with grated coconut . It is a part of Sadya. (Please see related article on Thoran)
Thoran as I have already told you is a vegetable based stir fry which contains finely chopped vegetables with grated coconut. It makes use of very few ingredients, the main ingredients are finely chopped vegetables, shallots, curry leaves
Cheera is the Malayalam word for Spinach and this Thoran prepared by my friend in Allepey, Kerala, India was made from Red Spinach or Chuvanna Cheera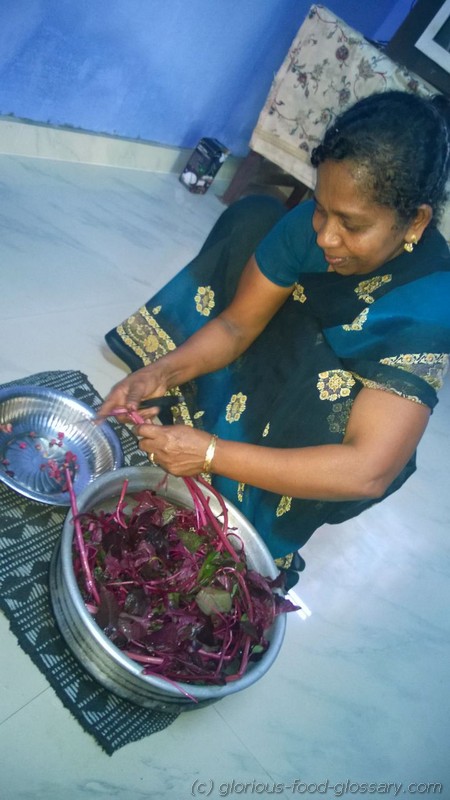 Shown above picture is my Aunt Lily cutting the Cheera finely.
Picture below is the finished product, a delicious Cheera Thoran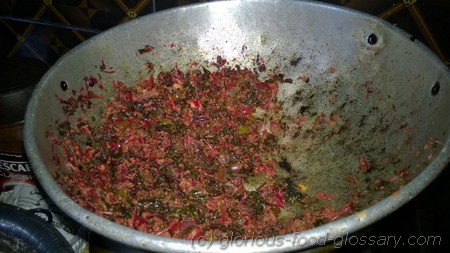 ---
List of books: Cheera,Thoran