Thoran is a dry vegetable curry from Kerala made from whatever fresh vegetables are available around, suchs as snake beans, unripe jack fruit , Ladies fingers, Cabbage, Green Papaya, Spinach and other vegetable  or with one or more finely grated or chopped vegetables, such as Cabbage and Carrots stir-fried with grated coconut meat.
Thoran is one of the traditional dishes for Onam Sadya. Any Sadya in Kerala is incomplete without the Thoran, especially the Cabbage Thoran. 
In cooking Thoran, the vegetables are sliced into very small pieces (Snake beans, Ladies Fingers and Beans) or grated (Papaya and Carrots, for example) and stir-fried with small amount of coconut oil with slices of chilies, onions, grated fresh coconut and spices, such as Mustard seeds (Kadugu), and Cumin until it is completely dry and of course Curry Leaves . 
Grated coconut, chilies, garlic and ginger which are sometimes added are grinded together, Kadugu and Curry leaves are fried until Kadugu popped up, then the finely cut, chopped or grated vegetables and the mixture of ground coconut, chilies, Cumin, garlic and ginger are added.
This is one of the easiest dishes and one of my favorite dishes which I have learned to cook from Kerala. I was able to cook using Okra and French Beans when I was in the Philippines and have still the fried Curry Leaves I brought home from Allepey and I am so happy about the result. If i can purchase all the ingredients now that I am back in Germany, I can cook a good Thoran and I will be transformed back to Allepey.
Please see related articles about Thoran in the Glossary using different kinds of vegetables, as in Cabbage and Carrot Thoran , Papaya Thoran, Cheera Thoran, and many more.
Below is a picture of Cabbage Thoran,  one of the many Thoran dishes which are prepared in Kerala, India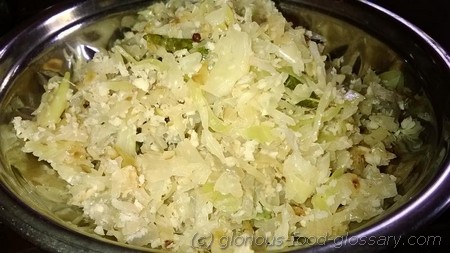 Below is a special Thoran served during the birthday celebration of one of my "cousins" in Allepey, Kerala, India. It is called Mixed Cabbage Thoran, made from finely grated Cabbage, Carrots and Yellow Cherupayaru Parippu (split yellow Mung Dal/Beans)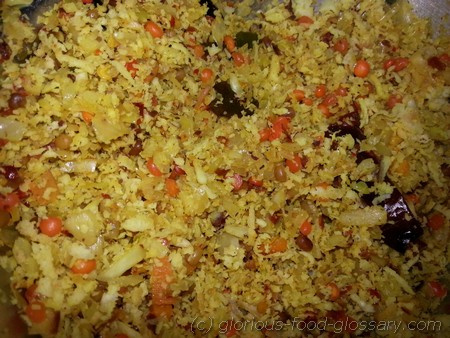 ---
---
List of books: Thoran