Proven also spelled Proben is one of the Street food in the Philippines made of the Proventriculus of chicken which is coated in batter and deep-fried . Proven is short for Proventriculus which is the grandular portion of the stomach of the birds, including the chickens in which food is partially digested before passing to the gizzard. It is the hard portion between thw esophagus and the gizzard. They are also marinated and grilled skewered on bamboo stick.
I saw this food the first time in 2016 when i visited my home country, the Philippines. It is one of those deep-fried food offered in the Nightly Food Market in San Pablo City. Honestly, I was too curious to know what they are, because of their shape after deeply fried, but no one dared to answer me. It looks unusual for me to see these food for the first time. My friend, though, enjoyed eating them a lot with lots of spicy Sawsawan (Dip ) made of spicy Vinegar (Suka) and that is enough for me to know that they are indeed edible.
With this food, I am proud of being a Filipino. It proved once more that  Filipinos are indeed very resourceful. Nothing wasted, every part of the chicken is made into edible delicious food to fill our empty stomachs for a cheap price.
Below are battered deep-fried Proven in plastic cups which can be filled with the Sawsawan (Dip). How I wished I can eat this food. I hope next time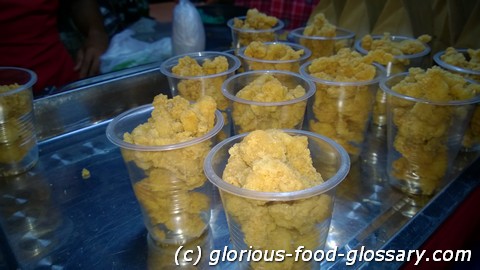 ---
List of books: Proven