Vengayam/Vengaya/Venkayam Pakkoda refers to onion fritters made by slicing red onions, coating them with batter made from Kadala Mavu (Chickpea flour) with lots of spices, slices of green chilies and Curry Leaves , then deep-fried in Coconut Oil.
Vengayam/Vengaya Pakkoda is also spelled Pakoda and it is also called Savola Pakoda. 
Venkayam is the Tamil word for Onions while in Malayalam Onion is called Savola. 
Pakkoda, Pakoda can also be called Pakora and they are all the same, Indian fritters made from vegetables or meat, usually vegetables, such as Onions, Spring Onions, Green Chili, and Cauliflower. 
When I was in Allepey, Kerala, India, most Pakoda or Pakora I have seen are made from Onions and since I love onions, I love Onion Pakoda.
Picture below is Vengayam/Vengaya/Venkayam Pakkoda sold in the night food street market in Coimbatore, Tamil Nadu. Looks so delicious, I miss Allepey.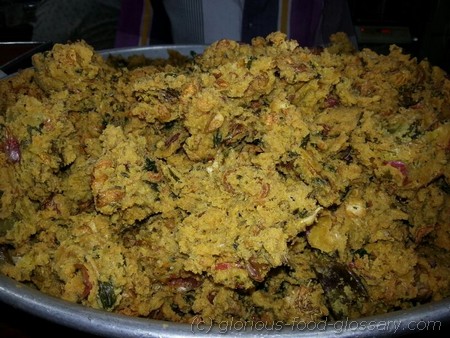 ---
List of books: Vengayam/Vengaya/Venkayam,Pakkoda