Gothambu/Gothumbu Puttu refers to one of the popular breakfast food in Kerala, India, steamed broken/cracked wheat cake made of grated coconut, jaggery and craked/broken wheat
Wheat is called Gothambu in Malayalam 
Puttu or steamed rice cake is a South Indian delicacy served for breakfast along with either sweet or savory curries. Traditionally, Puttu is made with rice flour, but lately,  Puttu is already being made being made with other ingredients like Oats, Semolina (Rava), wheat flour, Ragi or millet flour, brown rice flour, and many others.
Below is a picture of Gothambu/Gothumbu Puttu which used Gothambu flour dough instead of the usual and traditional rice flour dough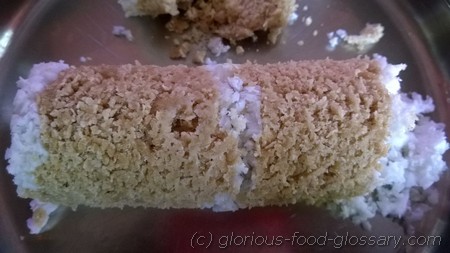 Puttu is cylindrical in shape and is made traditionally  of rice flour and coconut. This rice flour dough is layered with grated coconut and steamed in a hollow bamboo or Puttu maker called "Puttu chemb" or Putti Kutti, a steamer which is cylindrical in shape. It is usually eaten with sugar or with mashed ripe or steamed bananas or with a spicy curry made of Kadala . Usually, the main sidedish served along with Puttu is Kadala Curry. This is often served for both breakfast and evening tea.
Below is a picture of the Puttu-maker, Puttu Kutti in Malayalam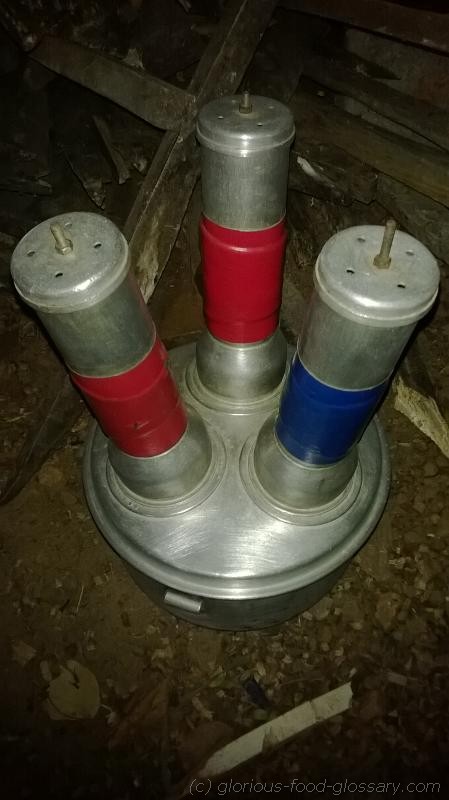 ---
---
List of books: Gothambu/Gothumbu,Puttu