Rava Payasam refers to the traditional sweet pudding from Kerala, India made from Rava, Milk, a bit of salt, Ghee m, sugar  spiced with  Cardamom powder. 
Rava is the Malayalam term for Semolina which is also called Soji or Sooji in other parts of India.
Payasam is referred to as Kheer in other parts of India. It often  made from Rice, Semolina, Broken Wheat, Oats, Vermicelli and Cheru Payaru. 
Semolina or Rava is called Griess or Grieß in German which is prepared usually as Griessbrei/Grießbrei (Semolina Pudding/Semolina Porridge) in Germany. As far as I can remember, we never use Semolina in the Philippines to make sweets or desserts.
The picture below is a very simple Rava Payasam which was cooked plain. The fancy Payasam which is a part of Onam Sadya is usually with Cashew Nuts and Raisins.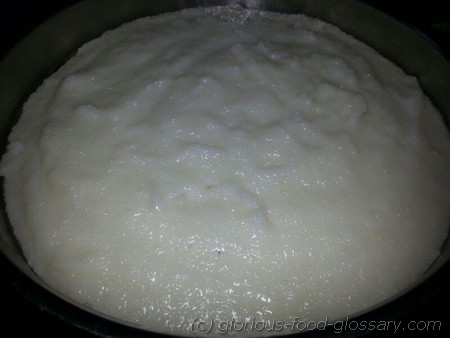 ---
List of books: Rava,Payasam