Botsi refers to one of the many Street Food in the Philippines which is made from the esophagus of chicken that are cut into small pieces, battered and deep-fried and served with a spicy Sawsawan (Dip) made from Vinegar (Suka). 
Botsi can also be skewered and grilled. 
What I have seen in San Pablo City in the Philippines during the daily Night Food Market  is the battered and deep-fried version of Botsi , like the picture below. My friend who enjoys tasting these unique Street food enjoyed eating Botsi a lot together with the spicy Sawsawan that comes with it. 
A plate wrapped in plastic can also be seen on the left side of the picture where the newly fried Botsi can be eaten swimming in the spicy Sawsawan. How I wish I can eat and enjoy them too. Hopefully, one day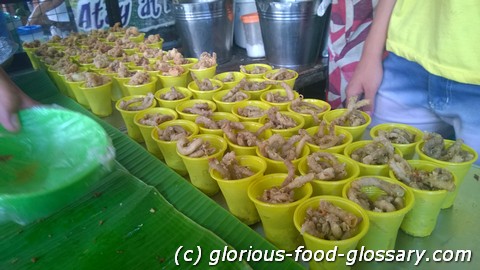 ---
List of books: Botsi