Pinaltok refers one of the sweet food from the Philippines which is served as snacks made from ground glutinous rice shaped like little balls and Sago (Sago pearls, that is)  cooked in Coconut Milk. These glutinous rice balls are called Bilo-Bilo, hence Pinaltok is simply called Bilo-Bilo or Ginataang Bilo-Bilo in other Tagalog regions of the country.  
While in some Regions in the country, Pinaltok is simply made from glutinous rice balls, Coconut milk (Gata) and Sago pearls, the other regions add pieces of ripe Jackfruit (Langka), root crops, like Sweet Potato (Kamote) , ripe Banana (Saging na Saba. 
In Batangas, Pinaltok is called Pinindot and generally called Ginataang Halo-Halo in many parts of the Philippines, because of the additional medley of fruits mentioned above
In San Pablo where I have a residence in the Philippines, this sweetened treat is called Pinaltok and you can hear almost everyday roaming vendors early in the morning calling out "Pinaltokkkk" . For breakfast, newly cooked and piping hot Pinalktok in San Pablo City, my home in the Philippines is heavenly.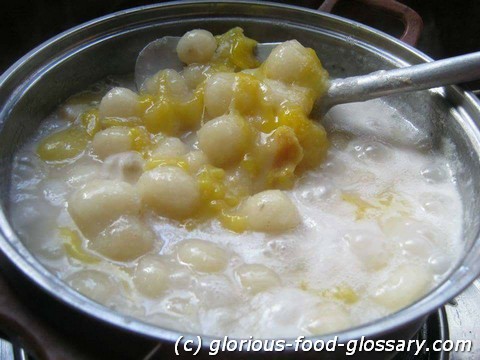 ---
List of books: Pinaltok