Sago is a Filipino word for tapioca pearls.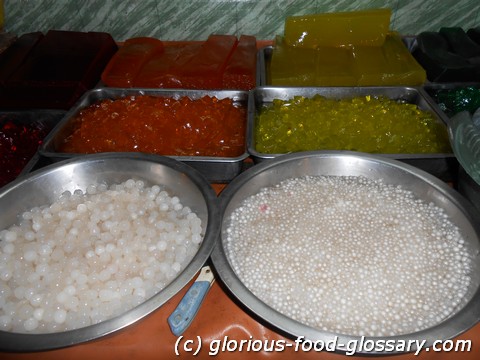 Sago is a starchy substance that comes from the pith of the sago palm tree. It is commonly used in Southeast Asian cuisine, particularly in desserts and drinks. Here are some examples of dishes and drinks that use sago:
Sago pudding: A dessert made with sago pearls, coconut milk, and sugar.

Mango sago: A popular Hong Kong dessert made with fresh mango, sago pearls, and coconut milk.

Sago at gulaman: A Filipino drink made with sago pearls and agar jelly, served in a sweetened syrup.

Bubur cha cha: A Malaysian dessert made with sweet potato, yam, and sago pearls, served in coconut milk.

Sago porridge: A Chinese dessert made with sago pearls, sugar, and water, served warm or cold.
Similar ingredients to sago include:
Tapioca pearls: Similar to sago pearls, tapioca pearls are made from the starch of the cassava plant and are used in a variety of desserts and drinks.

Chia seeds: These small, gelatinous seeds are often used in puddings, smoothies, and other healthy snacks.

Boba pearls: Also known as bubble tea pearls, these small, chewy balls are made from tapioca starch and are commonly found in Taiwanese bubble tea.

Arrowroot powder: This starchy substance is often used as a thickener in soups, sauces, and desserts.

Cornstarch: Similar to arrowroot powder, cornstarch is a common thickener that is often used in desserts like pudding and custard.