Chami also called Pancit Chami refers to a Filipino variety of Pancit (noodle dish) which is similar to Lomi, but will less broth and is cooked stirred fried. Chami has become a signature dish and specialty of Lucena City and nearby areas follow suit, like Tayabas, Sariaya and Pagbilao. Chami is cooked with fresh egg , flour-based noodles and to give it its distinct flavor, and pork or chicken stock is used to cook it. The noodles in Chami is called Miki , a little wider in strip than the regular one, sautéed in various variations with nourishing mix-up of chopped cabbage, liberal dose of pork or chicken liver, chicharon, particles of meat, boiled quail eggs and slice onions as toppings.
In Quezon Province, Chami is cooked hundred of ways, each household has its own style of cooking it, just like many other where the style and ingredients used depends on the cook or who prepares it, but the basic ingredient which is the fresh noodles is the same. New flavors were also introduced by some restaurants in Lucena City, like the Tamis-Anhang (sweet and spicy) a delicious combination of noodles, soy sauce , bit of sugar and chili (called Siling Labuyo in the Philippines) Historically, many believed that Macao (Chinese) cooks introduced the Chami noodle locally, when most of the ethnic Chinese manned the kitchen of Lucena's restaurants several generations back.
The word Chami is said to derived from the Chinese word Cha or Chaocai which means stir-fry-stir-fried ans Mi or Miantao that means noodles.
Lucena City is one of the cities located in the Province of Quezon in the Philippines. Chami is one of the local and well-known deliacacy in Lucena. A Festival is Held annually in this said City to which featured the Chami since 2006 where Chami cooking and eating competition are held
I have tasted a lot of Pancit in my whole lifetime, but I have never heard of and tasted Chami. Soon I am home, I will definitely go to Lucena to taste this noodle. I have been in Lucena City port last March, if only I knew, I could have soend more time for a bowl of Chami.
Below are pictures of Chami which I promised to taste when I go home to my Country the Philippines. As promised, I traveled to Lucena to taste their Food, especially their famous Pancit Chami.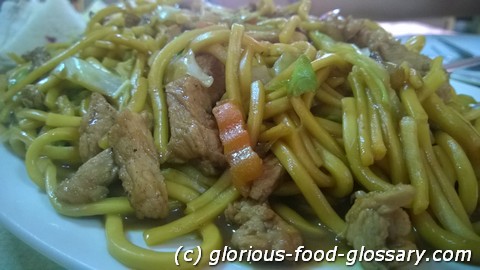 ---
List of books: Chami