Deutsch: Guaven / Indian: Perakka, Koyyakka
Guavas (singular guava) are plants in the Myrtle family (Myrtaceae) genus Psidium, which contains about 100 species of tropical shrubs and small trees. They are native to Mexico, Central America, and northern South America. Guavas are now cultivated and naturalized throughout the tropics and subtropics in Africa, South Asia, Southeast Asia, the Caribbean, subtropical regions of North America, Hawaii, New Zealand, Australia and Spain.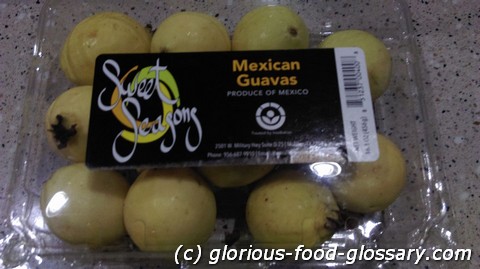 In the food context, guava refers to a tropical fruit with a sweet, fragrant flavor that is native to Central and South America but is now widely cultivated in many parts of the world. It is often eaten fresh or used in a variety of dishes and beverages.
Here are some examples of dishes and beverages that use guava as a primary ingredient:
Similar fruits to guava include: