Börek is a thin, flaky and filled pastries which is available in different varieties based on shapes, filling and cooking method.
Moreover, Börek is the common and general name for all filled or stuffed baked or fried pastries, made from a thin flaky dough called Yufka (filo/phyllo sheets) and filled with various ingredients. (Please see related article and pictures of Yukfa)
There are many kinds and varieties of Börek based on fillings and place of origin, among them are the following:
(1) Su Böreki is a juicy kind of Borek which is a cross between a pastry and Lasagna. With Cheese and Parsley filling.
(2) Peynirli Börek - layered pastry with Cheese filling
(3) Patatesli Börek  - Borek with potato filling
(4) Ispanakli Börek - Borek with spinach filling
(5) Kiymali Börek - Borek filled with minced or ground meat. Kiyma means ground meat  in Turkish
(6) Cig Börek  - a deep-fried thin dough filled with raw minced meat
(7) Ay Böreki  - crescent-shaped Börek
(8) Talas Böreki - is a  puff pastry with meat kebap filling
(9) Gül Börek is puff pastry with lamb meat.
Nowadays there is plenty Yufka sold in plastic packs available in the supermarkets. Some are of course not the best Yufka like that which are made in Turkey. Phyllo/Filo pastries can also used if no good Yufka is available nearby
Kiyma is Minced/Ground Meat and  Ispanak is  Spinach in Turkish.
Börek is also spelled as Boerek, and Burek
Depending on the filling, the shape and sometimes the region the term Börek is preceded by a descriptive noun: Kabak böre?i (Zucchini börek), Ispanak Böre?i (spinach Börek), Kiymali Börek (Börek with ground meat) or Su Böre?i (water/boiled Börek), Tepsi böre?i (layered börek) etc.
Ispanakli Börek or Spinach Börek is the favorite among the Turkish. It is generally made for and served at afternoon tea when friends and family gathered together,  sold by street vendors as street food or Bakeshops early in the morning for breakfast. It can also be served as a complete  meal for lunch or dinner served with Ayran, Soda and of course Turkish Hot Tea.
Ispanakli Börek can be prepared in different styles, in bundled, rolled, or in spiral, but the most common style is called Tepsi, a Turkish word which means "Tray", a layered Ispanakli Börek.
Below are pictures of Börek from Turkish Restaurant in Bremen, Germany. Turkish Food is one of the Foods closest to my heart. Turkish are the foreign people who can easily be friends in Germany. As a foreigner in Germany, it is nice to have new friends and the Turkish are the friendliest. I love to visit Turkish Restaurants and Coffee shops here just to sit down and enjoy the ambiance plus the food is always delicious, especially the Baklava and Kadayif with hot Turkish Tea.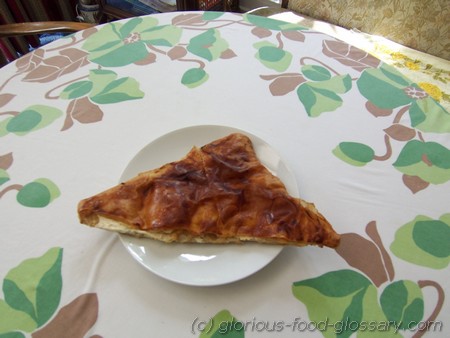 Above is the first ever Börek I have eaten in Bremen, Germany, since our house is nearby a Turkish Eatery. It is a Börek filled with Cheese (Peynilri Börek) 
Below is a picture of 3 different kinds of Börek in one of my favorite Turkish Coffee shops nearby my home in Huchting, Bremen. Filled with Ground meat (Kiyma); Spinach (Ispanak) and Cheese (Peynir)