Puttu refers to a breakfast dish from Kerala, south of India which is made from  rice flour  and freshly grated coconut steamed in a cylidrical tool called Puttu Kutti .  Puttu is a traditional and most popular breakfast dish of. It  is usually served with Kadala curry (black chickpea curry) or it is served with Pazham (small yellow banana) and sugar. Puttu is also great with combined with Cherupayaru curry and Pappadam .  But, all I can say is that Puttu can be combined with any other dishes from Kerala. I had eaten mine with Egg Masala and Cabbage Thoran and it was delicious, too. 
Puttu is very delicious either way. Puttu is generally cooked in a Puttu Kutti vessel with two (2)  sections. The lower section called Puttu Kudam holds water and the upper section (a cylindrical tube) called Putti Kutti holds the Puttu or where the rice mixture is inserted with layers of grated coconut. (Please see related article and Pictures of Puttu Kutti)
There are other varieties of Puttu in India: 
Rava Puttu is a  steamed cake made from Semolina called Rava or Sooji in Malayalam.  It is a variety of Puttu which makes use of Rava instead of Rice flour, but cooked the same way as the traditional Puttu which makes used of Rice flour
Atta  Puttu  refers to a steamed cake made from  Wheat flour. It is a  Malayali breakfast dish typically made with rice powder or rice flour,  but this variety of Puttu is  made with Atta/wheat flour  for less calories. 
Puttu is arguably the most iconic breakfast dish of Kerala. Which is served with many curry dishes and stir-fried dishes  from the country 
I love Puttu in everyway, but I think the best Puttu is that which is served with boiled local banana from Kerala or simply with sugar. 
Below are varieties of Puttu which was served to me while in Allepey using various flours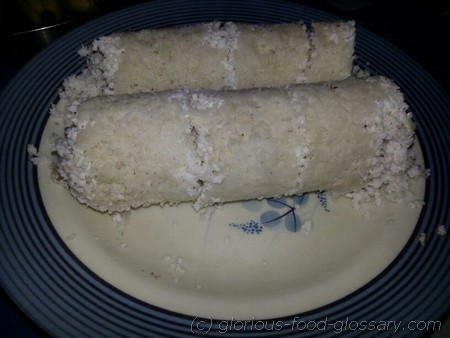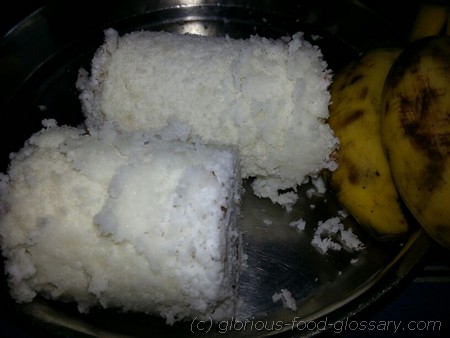 Above is Puttu served with fresh Pazham (Banana) for breakfast and below is Puttu served with steamed Pazham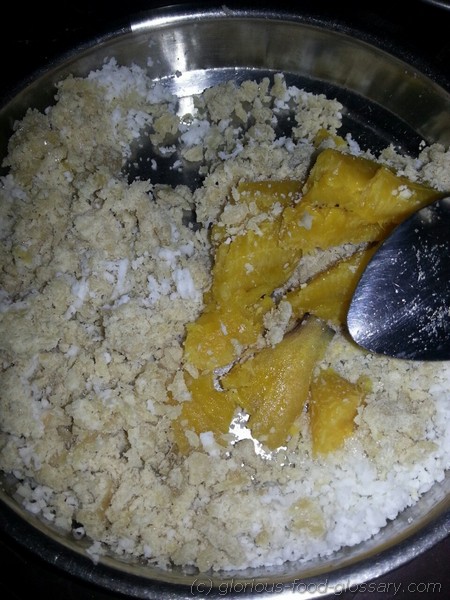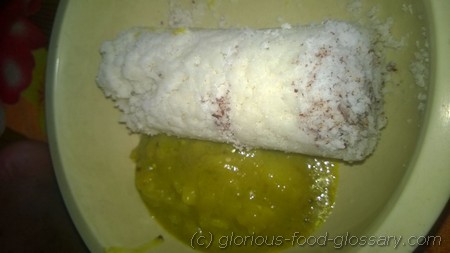 Above is Puttu served with savory Curry. Puttu can be accompanied with sweet (steamed or fresh Banana, jaggery or sugar) or savory dishes (any kind of Curry)
Please see other pictures of Puttu sold during the Food Festival during New Year in Trivandrum, the capital of Kerala in the Photo Gallery.
---
---
List of books: Puttu